Burnamwood Appalachian Ministry
For over 60 years, Burnamwood Camp and Conference Center has had a home in the foothills of the Appalachian mountains of Eastern Kentucky. In 2010, Camp Burnamwood began a new and bold endeavor – the Burnamwood Appalachian Ministry. Our goal is to help out as many people in this impoverished region of Kentucky in any way we can. So, throughout the year, Burnamwood opens a three story lodge nestled into the side of one of the mountains on our grounds to groups from across the country for week-long mission trips.
The groups will stay on site at Burnamwood. During the day, these groups will venture out into Central Appalachia to take the love of Burnamwood beyond the boundaries of the camp. Our full-time Summer Mission Directors will arrange all work sites and even provide food for all of the meals (the cooking is up to you though!). This is a hassle-free mission trip for youth directors and a chance for participants to open their eyes to extreme poverty in America.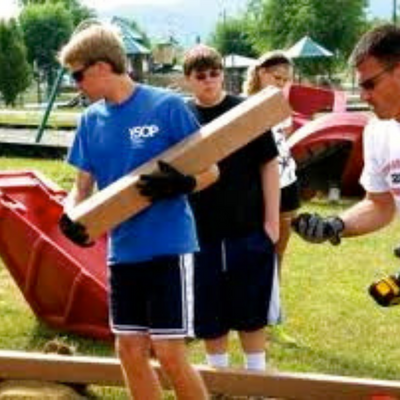 Accommodations: Provided!
A beautiful three story home nestled into the side of a mountain. An additional lodge will be provided for larger groups.
Food: Provided!
The refrigerator will be stocked when you arrive. You can prepare your meals in your spacious kitchen!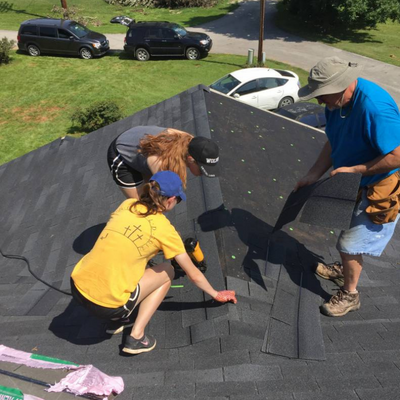 Work Sites: Provided!
The work will vary depending on group size and age, but the jobs will be lined up ahead of time in Irvine and the surrounding communities. As part of your registration packet, you will receive a document that your participants can complete to identify their work ability. Examples of work we have done in the past: roofing, weatherizing houses (weather stripping, siding, etc.), building wheel chair ramps, working with at-risk youth, building playgrounds, cleaning up water-ways, visiting with the elderly, and so much more!
Leadership: Provided!
There will be on-site work camp coordinators that will work with your group all week!
---
Guidelines
All participants must have completed the 6th grade.
There must be 1 adult chaperone for every 5 youth.
A non-refundable deposit of $50.00 per estimated
number of campers is due no later than two weeks after verbal reservation.
Groups must provide their own transportation to and from work sites.
Cost
$300 per person for all congregations (daily rate: $60 per day).
Registration
Ready to register your group or have more questions?
Call (859) 264-8867 or e-mail info@burnamwood.net for more information.
BAM – Offered Year Round
Can't make our summer program? We now offer Fall and Spring opportunities.  

These can be for a full week just like our summer program or only for 2-3 days.  The Registration process is the same for either option.  

Questions?
Contact us at 859-264-8867 or info@burnamwood.net.
BAM in the News
"Eastern Kentucky's Camp Burnamwood looking for youth groups with hearts and hammers"
Presbyterian Mission
Read more…